Meze

Meze is the Greek equivalent to Tapas, these plates are shared by friends & family & provide the backdrop for social gatherings.
Hummus
chickpea spread with garlic, lemon, olive oil & tahina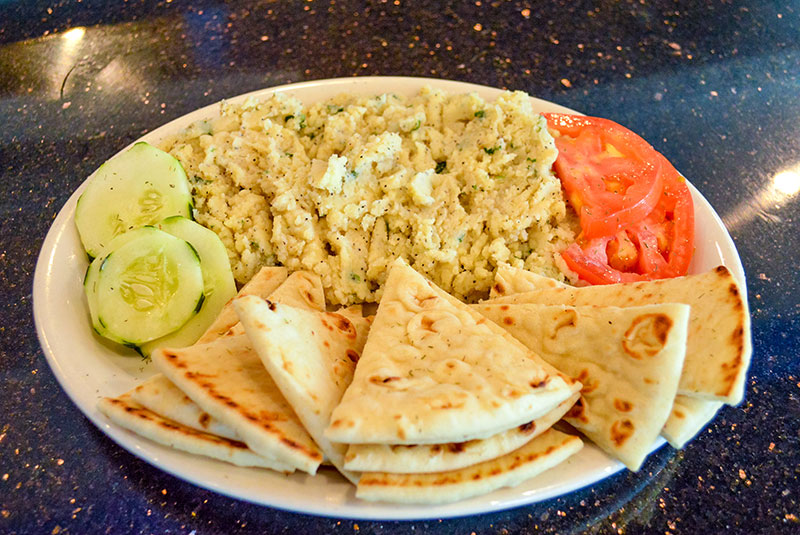 Baba Ganoush
eggplant, lemon, garlic, parsley & olive oil
Tzatziki
cucumbers, lemon, house made yogurt, garlic, dill, and olive oil
Sweet Peppers
roasted red peppers marinated with olive oil, garlic, and fresh herbs
Dolmades
grape leaves stuffed with rice, dill, lemon & olive oil
Flaming Saganaki
Greek kasseri cheese with brandy and lemon
Classic Wings
chicken wings marinated with Opa's spicy sauce
Calamari
pan fried squid – golden brown crispy

Lamb dolmades
grape leaves stuffed with lamb, dill, lemon and rice
Skordalia
smooth garlic-potato spread, blended with olive oil
Octopus
EVOO, oregano and red wine
Tabbouleh
parsley​ salad with green onion, tomato, bulgur wheat with lemon juice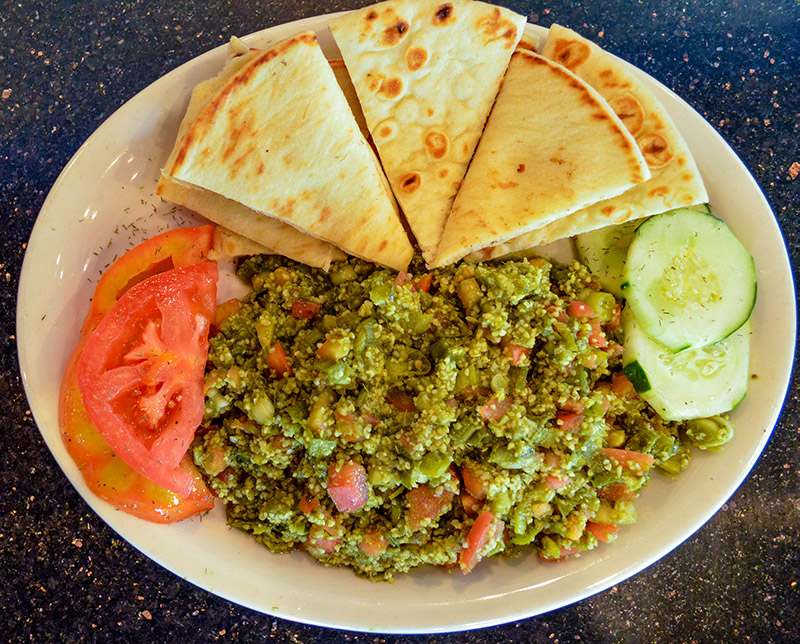 Soups
Lentil Soup
Opa's special recipe…healthy & delicious
Avgolemono Soup
rice and chicken, lemon & egg
Meatball Rice Avgolemono
beef meatballs, egg, rice & lemon
Daily Fresh Salads
Greek Salad
romaine, feta, Greek olives, tomatoes, red onions, cucumbers & green peppers
Horiatiki Salad
tomatoes, cucumbers, Greek olives, red onions, green peppers, feta cheese & olives
Organic Salad
mixed greens, strawberries, feta cheese, pecans, tomatoes, oranges
Cobb Salad
gyro, romaine, tomatoes, boiled egg, feta, avocado, olives
Gyro Salad
with Greek Salad
Grilled Chicken Salad
with Greek Salad

Grilled Shrimp Salad
with Greek Salad
Grilled Salmon Salad
with Greek Salad
Filet Beef Salad
with Greek Salad
Grilled Spicy Chicken Salad
with Greek Salad
Olympian Caesar Salad with Grilled Chicken
romaine lettuce, tomatoes, parmesan cheese & croutons
Pita Sandwiches
served with Lettuce, onion, tomatoes, and Greek fries or Greek Salad
Classic Gyro
rotisserie lamb & beef with & side of tzatziki sauce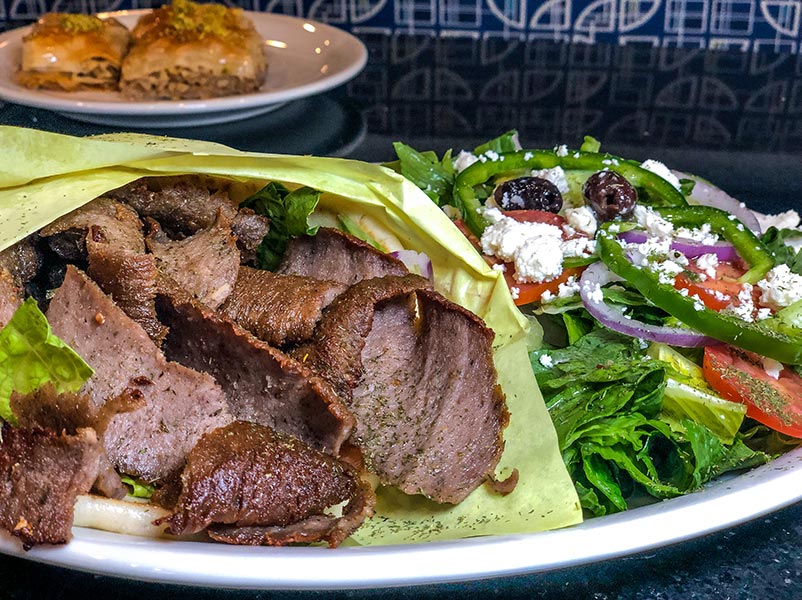 Gyro and Feta
classic gyro with lamb & beef, feta & side of tzatziki sauce
Chicken Souvlaki
chicken with garlic, pepper & olive oil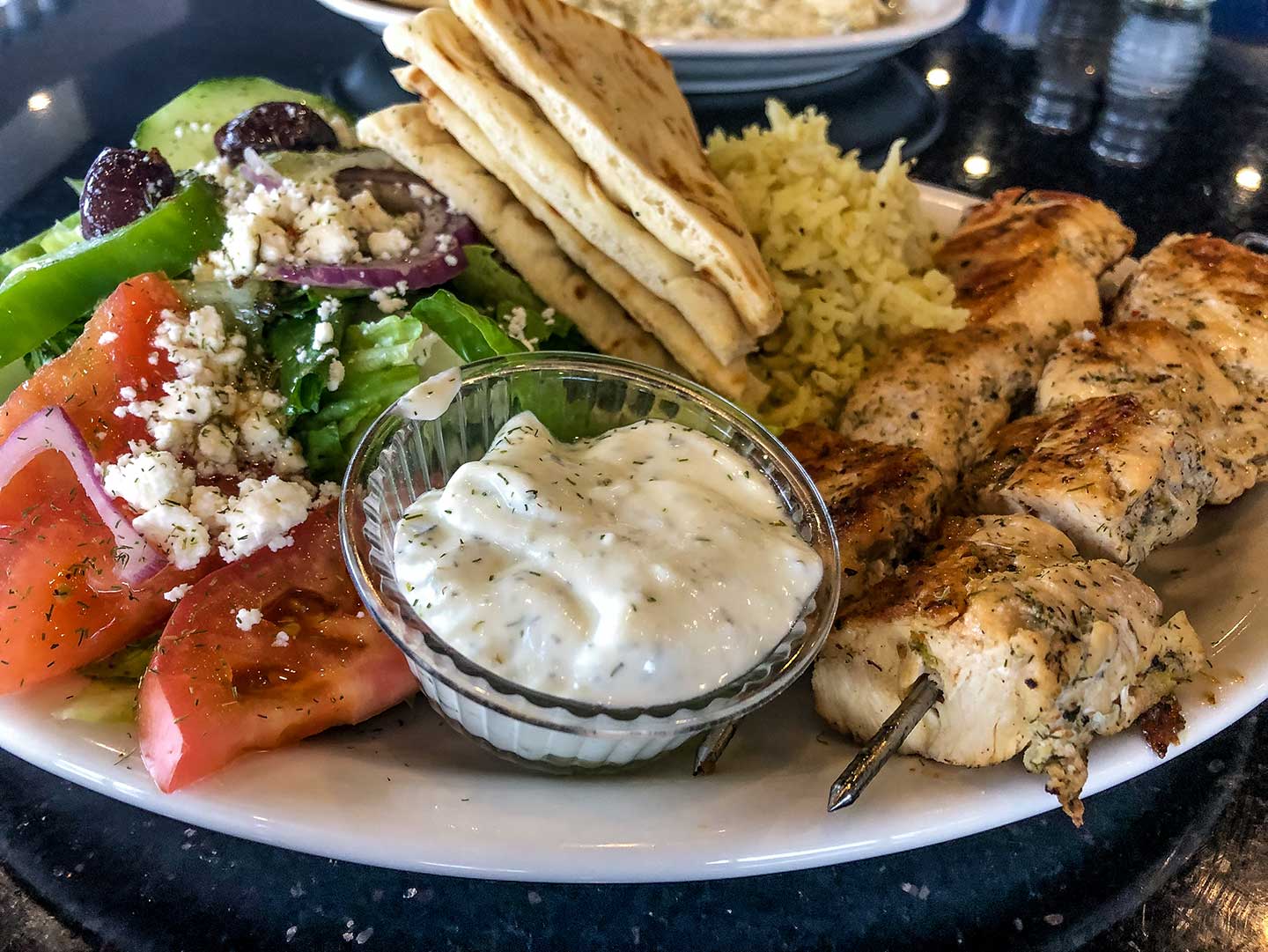 Spicy Grilled Chicken
grilled chicken marinated in spicy garlic sauce
Filet Souvlaki
beef marinated in thyme, oregano & garlic
Falafel
parsley & chickpea croquettes, feta cheese
OPA's Best Grilled Wraps
made with fresh grilled vegetables, onions, tomatoes, spinach, feta cheese, mushroom. Served with rice, Greek Salad or fries.
Gyro Wrap
rotisserie lamb & beef with tzatziki sauce
Filet Wrap
marinated with beef in thyme, garlic
Hummus & Chicken Wrap
Chicken Caesar Wrap
roasted garlic opa's Caesar sauce
Spicy Grilled Chicken Wrap
grilled chicken with spicy garlic sauce
Falafel Wrap
falafel with hummus
Greek-American Burgers
served with fries or Greek Salad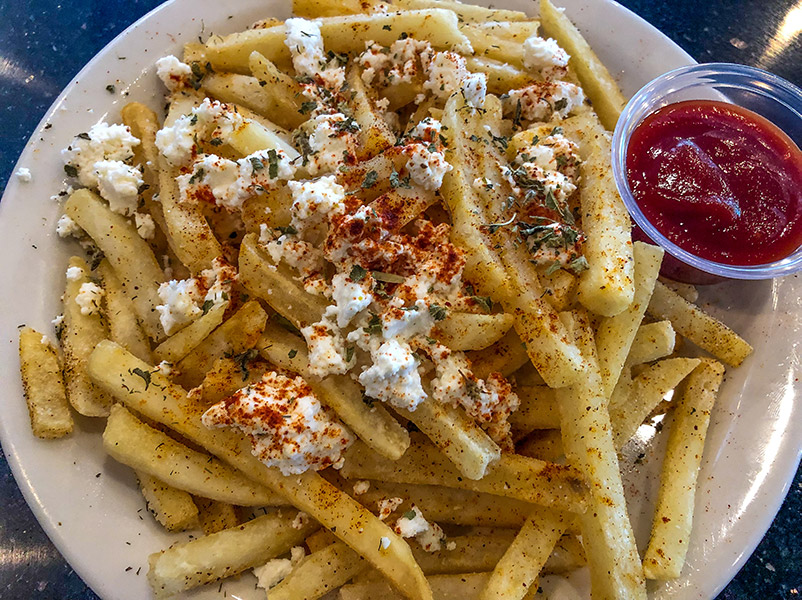 Classic American Burger
served with LTO, cheddar cheese and bacon
All American Loaded Burgers
served with LTO, American cheese ketchup, mustard, bacon, fried onions
Greek Burger
fresh ground beef with feta cheese, roasted garlic, sun dried tomatoes, roasted bell peppers and Greek olives
Classic Greek Chicken Burger
chicken breast, feta, roasted red peppers, spinach, sun dried tomatoes
Greek 1/2 Pound Burger
freshly made with a blend of fresh parsley, pepper, onion, & thyme
Saganaki Burger
Vegetarian Platters
served with traditional Greek Salad, pita bread and rice
Dolmades Platter
grape leaves stuffed with rice, dill, lemon & olive oil
Falafel Platter
chickpea croquettes with parsley
Spanakopita Platter
spinach pie with feta cheese
Vegetarian Moussaka
baked eggplant, zucchini, roasted tomatoes, potatoes & Béchamel cream sauce
Opa's Combo Platter
spanakopita, falafel, dolmades, hummus, Greek Salad & pita
Hummus Wrap
tomatoes, mushrooms, & spinach with hummus and feta cheese
Greek Low-Carb Platters
organic greens, onions, sun dried tomatoes, feta cheese, and olive oil, and garlic—fresh daily vegetables, spinach, broccoli, mushroom & red onions, and tomatoes
Gyro
rotisserie beef & lamb sliced, served with tzatziki sauce
Grilled Chicken Souvlaki
marinated with lemon, garlic, oregano, and olive oil, served with tzatziki sauce
Spicy Chicken Breast
served with house made spicy sauce
Filet Beef Souvlaki
chunks of beef marinated thyme, garlic, oregano & Greek wine
Lamb Souvlaki
chunks of lamb marinated with lemon, garlic, oregano, olive oil, served with tzatziki sauce
Grilled Salmon
grilled with lemon and olive oil
Sea Bass
grilled with lemon, garlic, and olive oil
Authentic Greek Entrées
served with Traditional Greek Salad
Roasted Lamb
roasted lamb with fresh pepper, rosemary & olive oil, served with Greek lemon potatoes and green beans
Lamb Chops
charcoal grilled lamb chops served with Greek lemon potatoes and green beans
Braised Lamb Shank
slow-cooked with tomato sauce, green beans & lemon potatoes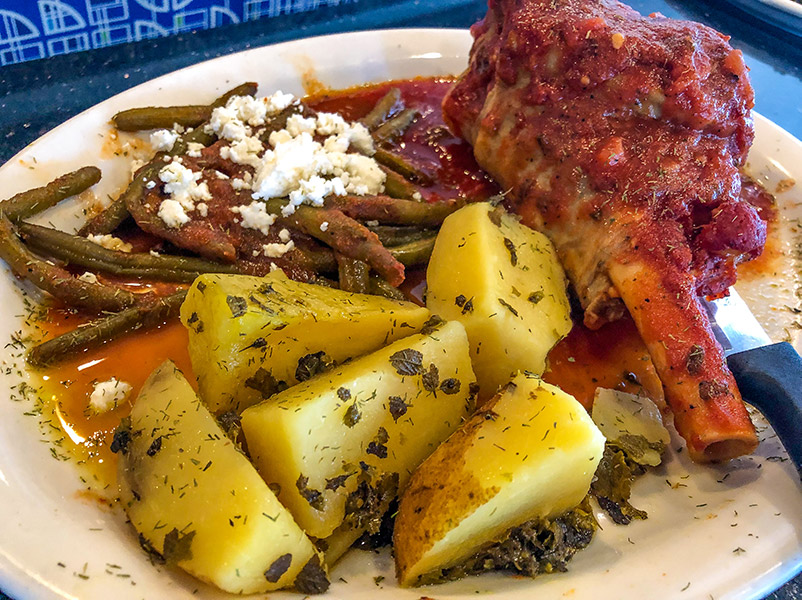 Salmon
charcoal grilled with and olive oil, garlic & lemon, served with Greek lemon potatoes and green beans
Shrimp
charcoal grilled with traditional Greek herbs and olive oil, garlic & lemon, served with Greek lemon potatoes and green beans
Sea Bass
grilled with garlic, lemon & olive oil. Served with green beans and Greek lemon potatoes
Lamb Dolmades Platter
grape leaves stuffed with lamb, rice and dill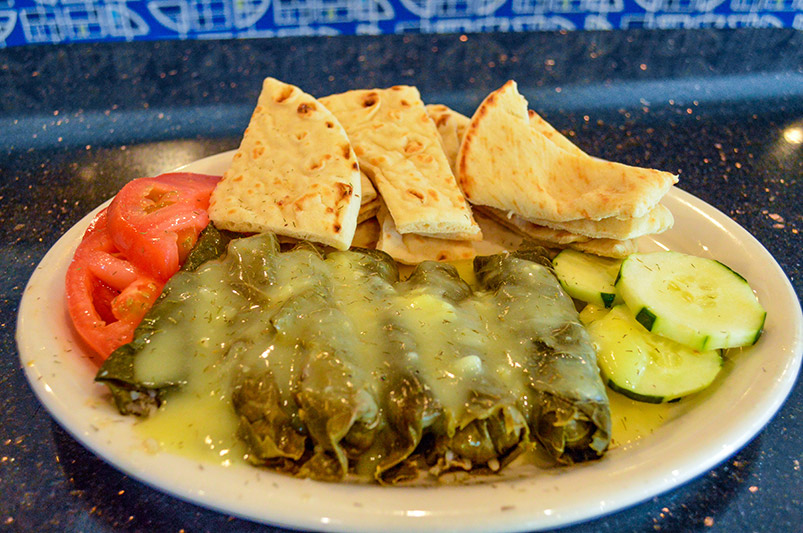 Top Sirloin
10 oz charcoal grilled with Opa's best spices served with Greek lemon potatoes and green beans
Entrées
served with traditional Greek Salad, rice & pita bread
Gyro Platter
sliced rotisserie lamb & beef served with tzatziki sauce
Chicken Souvlaki Kabob
marinated with lemon, oregano, olive oil & garlic
Spicy Chicken Souvlaki Kabob
marinated chicken breast in pepper, thyme, oregano, garlic & olive oil
Moussaka
eggplant, zucchini, potatoes and seasoned ground meat and Crème Béchamel sauce
Pastitsio
layers of pasta with seasoned ground meat and Crème Béchamel sauce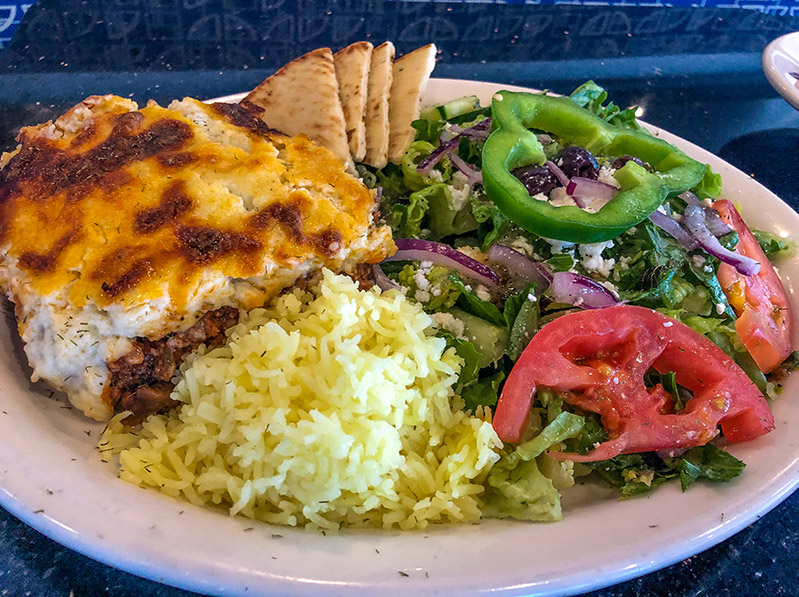 Filet Beef Souvlaki Kabob
chunks of beef marinated with fresh garlic, oregano, thyme & olive served with tzatziki sauce
Lamb Souvlaki Kabob
chunks of lamb marinated with fresh herbs, garlic and olive oil, served with tzatziki sauce
Combo Plate
choose the following:
• Gyros • Chicken • Filet beef  • Lamb
Yemista
stuffed tomato and bell pepper, rice, Greek herbs, potatoes
Authentic Greek Chicken
grilled chicken stuffed with spinach, feta cheese and olive oil, cooked our own especial way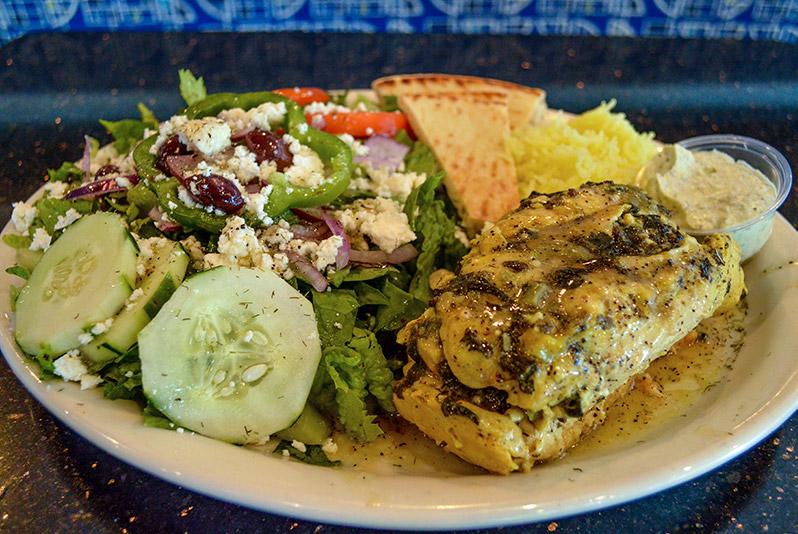 Greek Pasta
served with garlic bread and Greek Salad
Greek Spaghetti
fresh ground meat and tomato sauce, Greek cheese
Greek Style Spaghetti or Penne Pasta
light tomato cream sauce sautéed with spinach, tomato & mushrooms
Dessert
Baklava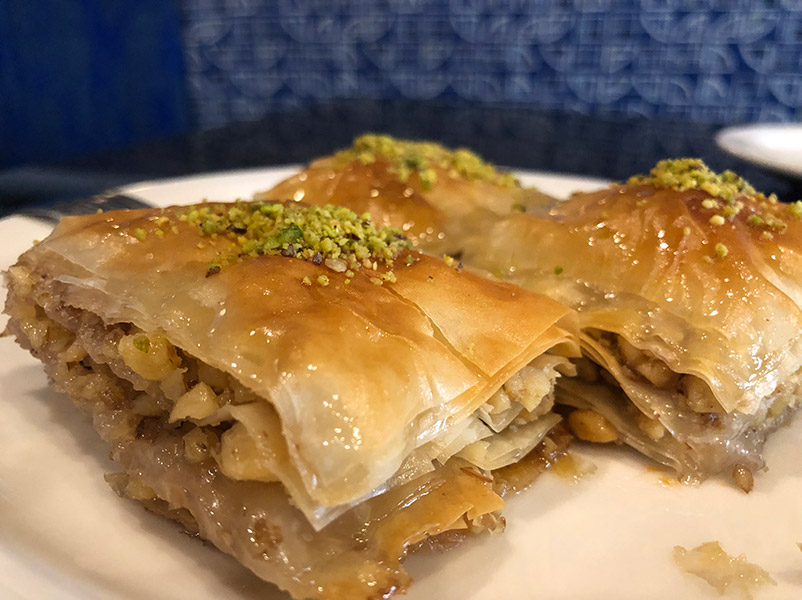 Cheesecake
Chocolate Cake
Opa's Sunday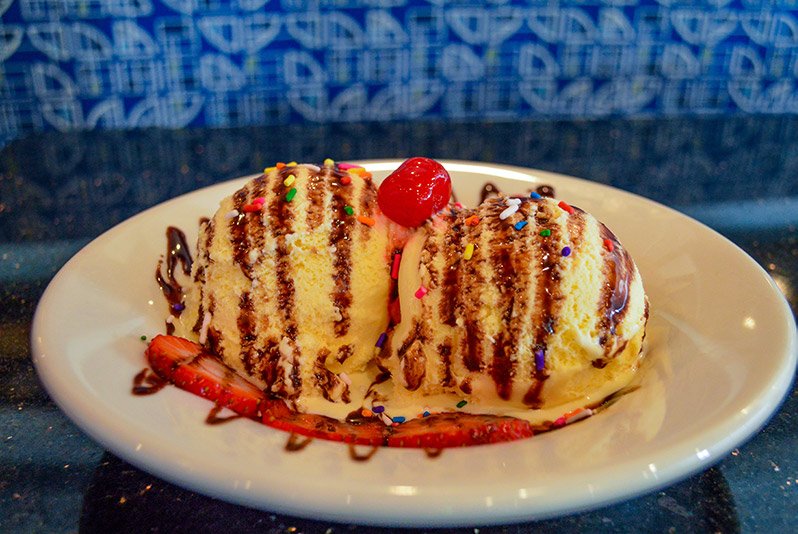 Galaktoboureko
honey custard
Children's Choice
(10 years and under) *meals include soft drink
Spaghetti and Tomato Sauce
Cheeseburger and Fries
Chicken Tender with Fries
Gyro Pita and Fries
Mac and Cheese
Children's Choice
(10 years and under) *meals include soft drink
Greek Coffee
Coffee
Lemonade
Orange Juice
Green Tea
Raspberry Tea
Black Tea
Hot Tea
Coke
Diet Coke
Coke Zero
Sprite
Dr. Pepper
Orange Fanta
Root Beer
Ginger Ale